SOME INFORMATION REGARDING IRAN NATIONAL JEWELRY MUSEUM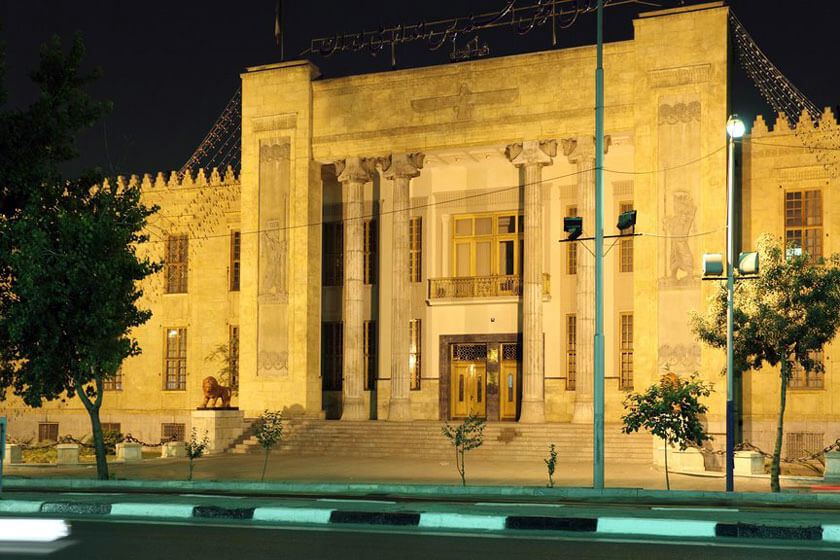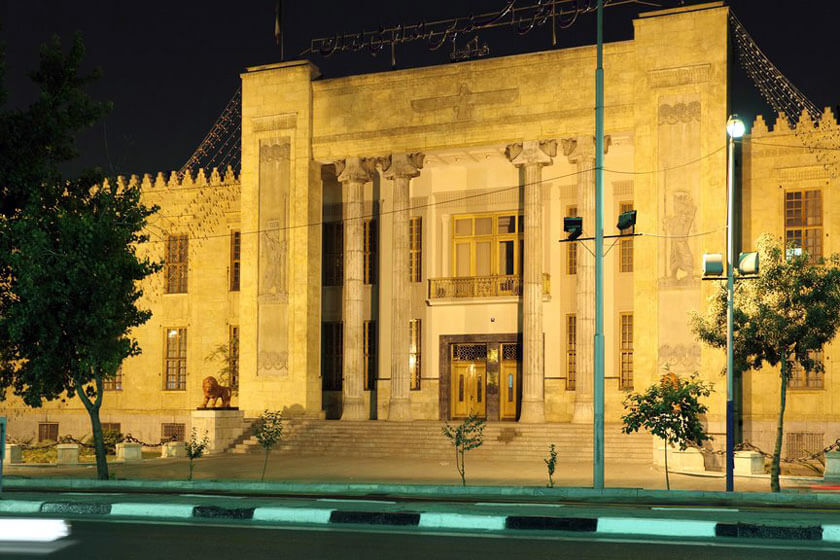 Our intention in presenting these jewels is to get you more acquainted with the rich culture and civilization of Iran. And to learn from history the fate of those who pursue power and hoard wealth. For this end we present this rich collection, which we have inherited and hope to preserve and pass on richer to our inheritors.
DARYAY-E-NOOR:
Daryay-e-Noor Diamond is the largest brilliant diamond among the Iranian royal gems and also one the most heard ones on the globe. It
Has been saying that, it has been discovered and extracted a thousand year ago and we can rank the first top among all Iranian National Jewelry.
Darya-e-Noor and Kooh-e-Noor apparently could be coupes as you can see the rhythm on names. It is also good to know that cuts and colors have nothing in common at all. While after Kooh-e-Noor was found in an eastern Indian company and we have no ideahow it found the way into court of st James and was gifted to Elizabeth the Queen and now is placed in her crown as actual England Mother.
Daryay-e-Noor Diamond on the other hand was given to state museum and is shining in National Jewelry Treasury. This Diamond weighs 7 mesquals (each=3.45 gr) and 20 chickpeas or 182 curatsand. The color is pink, but it was even much more before cuts.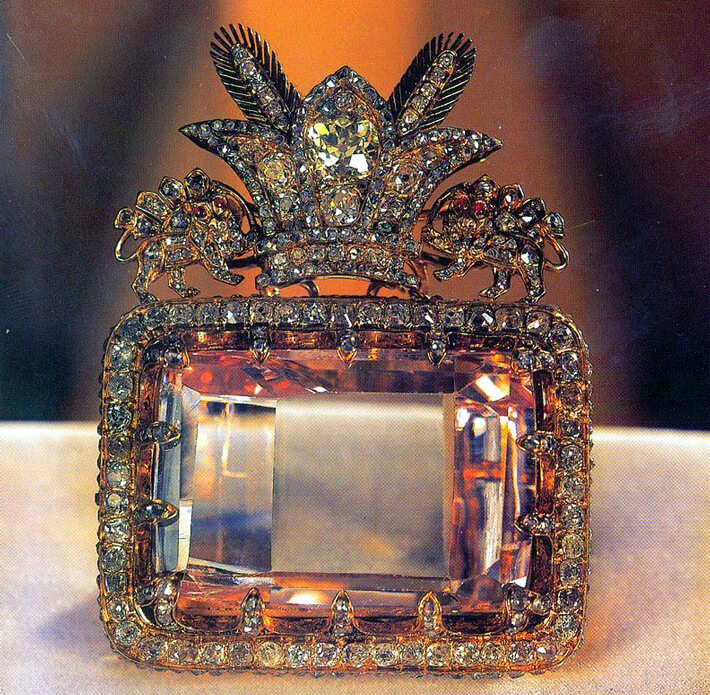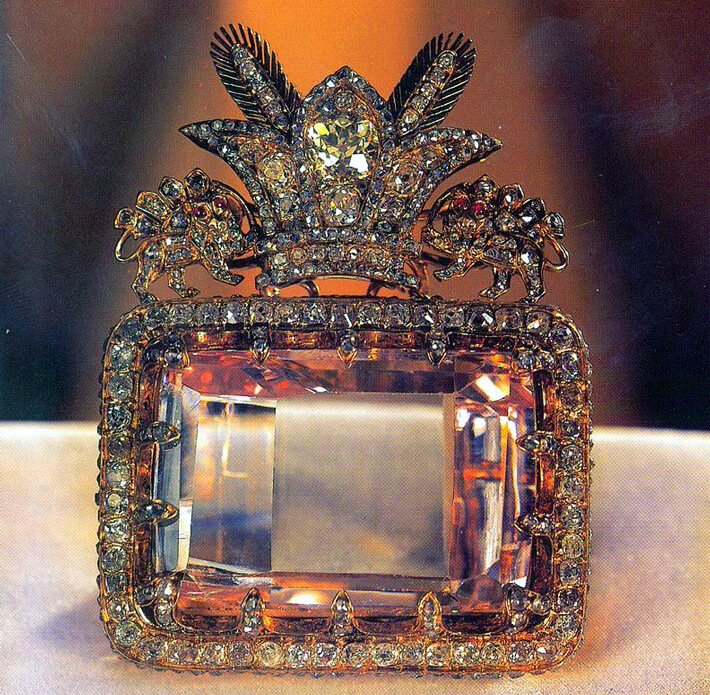 THE GEOGRAPHY GLOBULAR:
This beautiful Geography Globular hold by gold stands weighs around 37.5 kg and there has been 51366 pieces of different kinds of jewelries weighing 3656.4 gr applied to shape this master piece. oceans and seas are decorated by emerald and Asia is shown by ruby and garnet, Iran is decorated by diamonds, Europe is also designed by ruby, Africa is presented by red and aquamarine ruby and northern and southern America besides Australia are also dressed by ruby and garnet. The equator is shown by diamonds and two plain gold rings which are beautified by diamond flowers, cover the globular transversely. On this globular, Naser-ol-Din Shah given names are designed by diamonds. Damavand Mountain is shown by a very big ruby and Tehran can be found by a well-known ruby called "Orang Zib".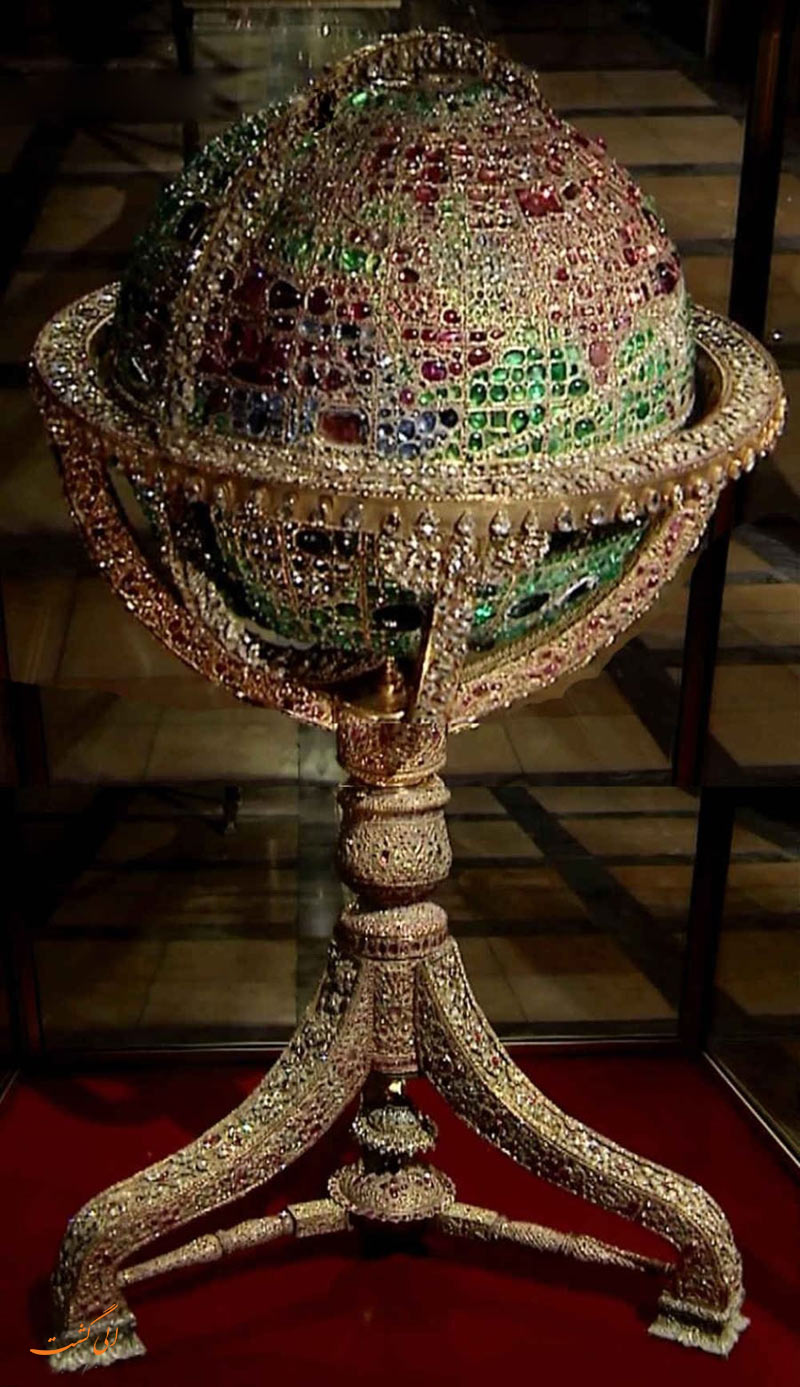 TAJ MAH:
   Taj Mah marches the second precious stone among the royal jewelries. This splendid almond-like white stone weighs 112 carats and was placed in the middle of royal arm band on left arm. Afterwards, it was uses as button on chest or before a hat and now is protected on a surface in Iranian Royal Jewelry Treasury.
KIANI TAJ(Crown):
Taj-e-Kiani is the one used in coronation.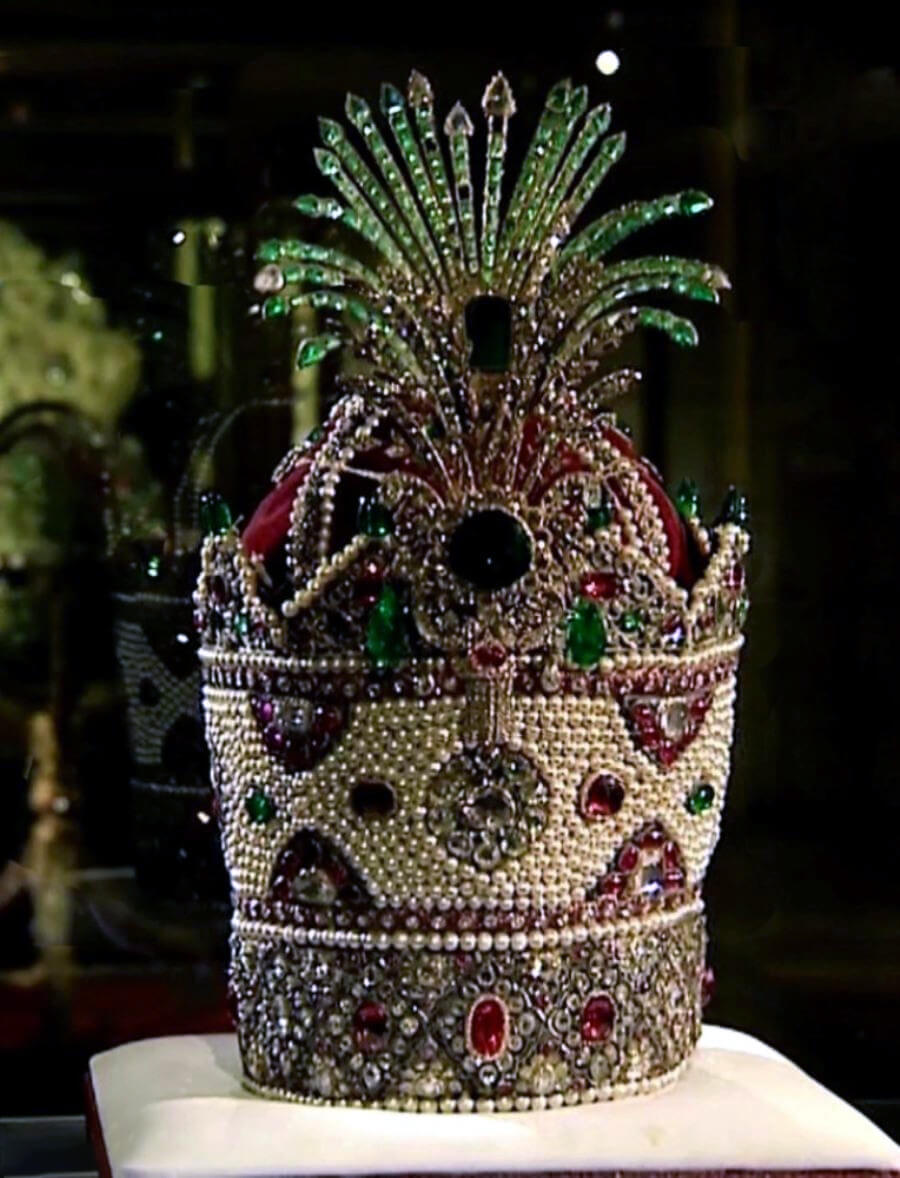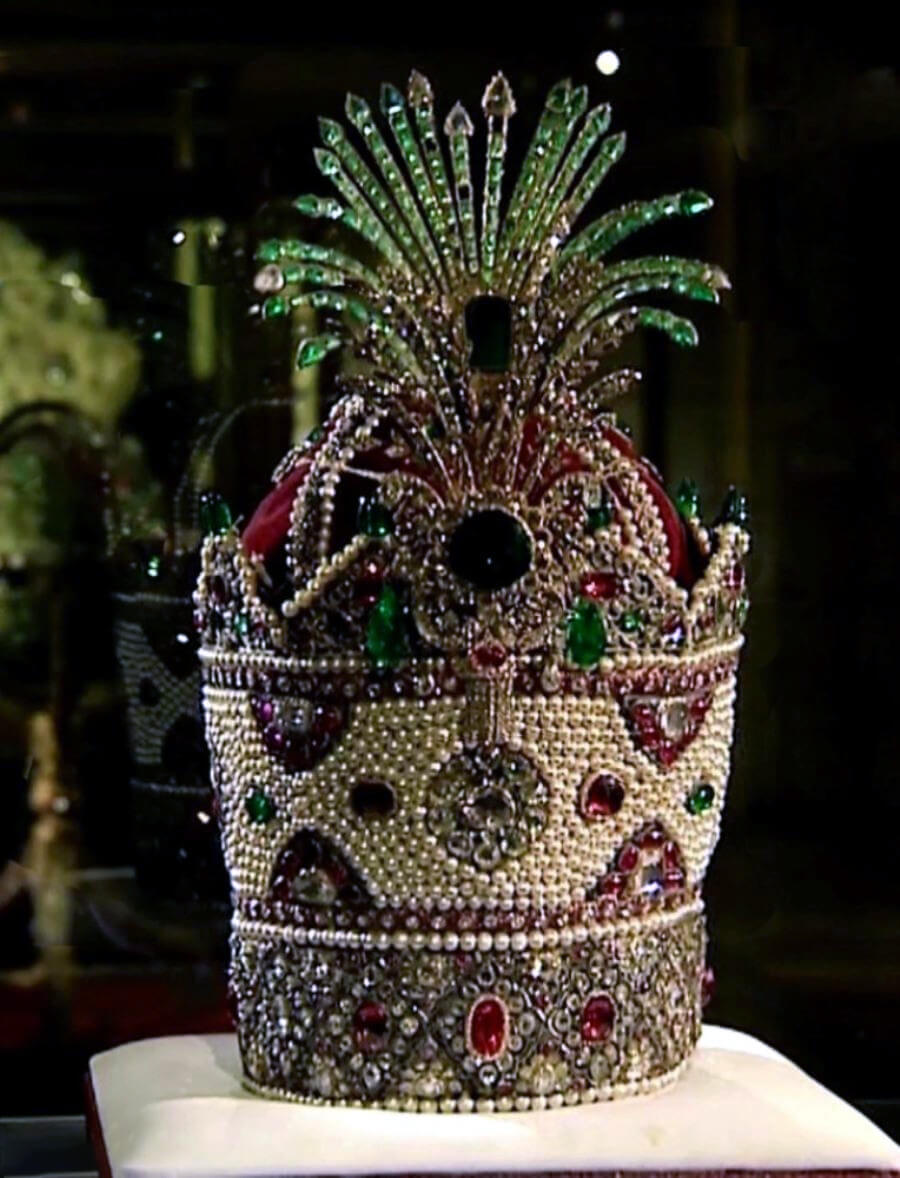 TAJ-E-FARAH:
Farah, the ex-Queen's crown was made with national jewelries by Iran Kliv
and Arpel in 1346. The body was made by platinum and 1469 pieces of brilliants, 36 pieces of emerald, 2 rubies, 34 garments and 105 pearls form the crown. It weighs 408.9 gr.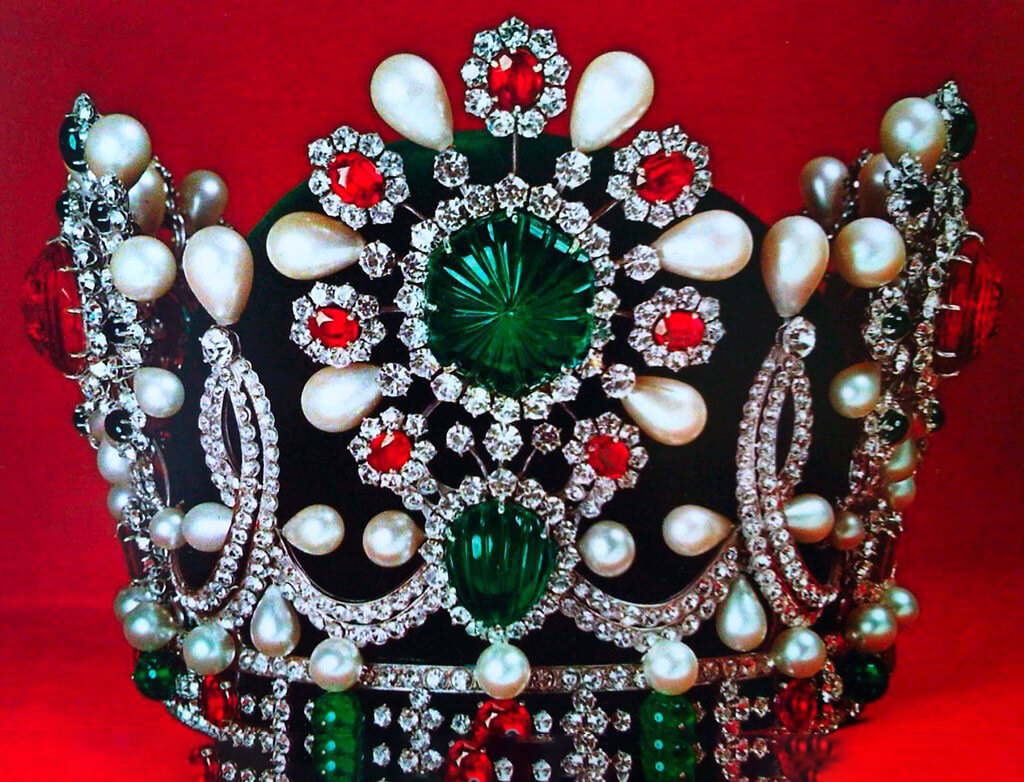 PAHLAVI CROWN:
This crown was used by Reza Khan and Mohammad Reza Pahlavi. It is made of gold and silver and is decorated by high-quality brilliant diamonds, large emerald seeds, Aquamarine ruby plus pearls.
4 sites carry rising crenels which resemble the Sassanid empire kings'. There is a shining sun with diamond rays plus a yellow diamond seed and right behind the crenel, you can see the footed arabesque paisley and a swan feather on the back as well. 3380 pieces of diamonds weighing around 199 carats, 2 aquamarine rubies weighing 19 carats and also 368 paragon beads shape this crown. The crown totally weighs 444 mequals/2080gr.
It is located in central Bank of Islamic Republic of Iran on Ferdowsi Avenue-Tehran. Tourist can visit from Thursdays to Tuesdays from 14:00 to 16:30 .Many precious jewelries including crowns, mirrors, clocks, are seen there. It is the wealth of art and precious stones and everything that you can imagine. You will find one of two biggest diamonds of the world here, Kuh-e-Nur and a lot remaining jewelry from the last king of Iran and his family. This Treasury, on one hand, depicts the culture and civilization of the Iranian people who have had an adventurous past, and on the other hand, repeats the silent tears of oppressed people who worked hard and instead the rulers, could show off their arrogance and power with their gold and jewels.