SHOPPING MALLS IN TEHRAN

As the capital, Tehran attracts many tourists from all around the world each season. Shopping malls are one of the most eye catching tourist attractions which people like to travel mostly to Tehran. Vanak passage, Tiraje shopping center and palladium mall are the best examples to satisfy and interest you to visit Tehran. There are many different products with different quality and prices that will be available to you with a good discount, here we will give you some info to get to know these places for a better decision.
TIRAJEH SHOPPING CENTER:
This Three-Floor-Shopping center carries an in-door recreation center (playground) and has 350 shops with many different famous brands. You can find: Furniture, Appliance, TV and electronics, Dowry, Adult and children clothing, Food courts, Shoes and bags (leather), Sports clothing, Glasses, Watches, Coffee shops. There is an in-door playground on top, a furniture exhibition and a three-floor parking. The third floor is where the Wonder Land (Sarzamin-e-Ajayeb) shines. Each floor has about 100 stores which mostly sell well known brands.
Facilities: parking space, elevator, escalator, rest room and praying room.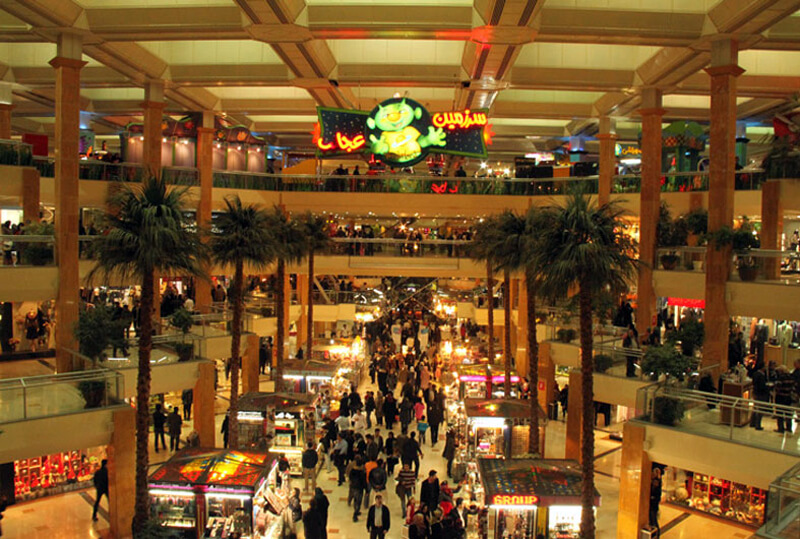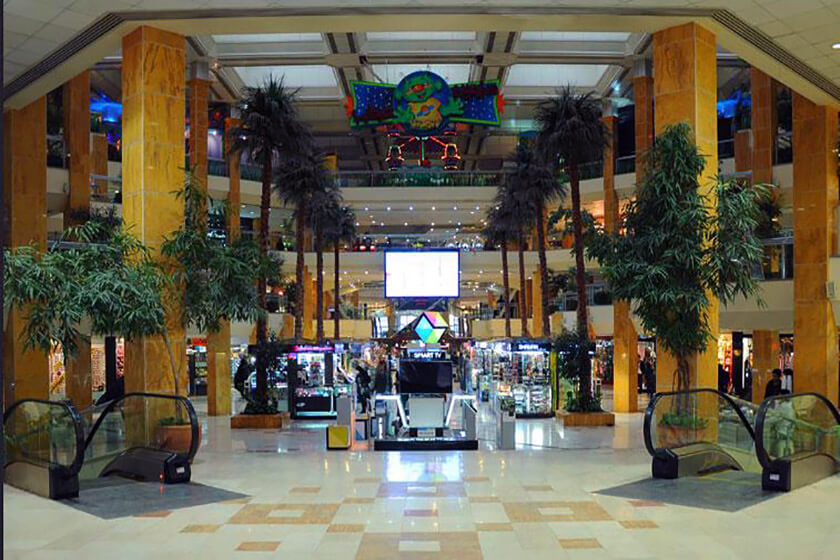 Address: Right before Hemaat Highway, Ashrafi Esfahani St, Tehran.
PALADIUM SHOPPING MALL:
Paladium shopping mall consists of Adult and children clothing, Sports clothing, Cosmetics products, Watches and Glasses, Electronics, Gold and Jewelry, Home appliances, Requirements, Indian culture hand-made products, Chocolate bars and Coffee shops, Food courts and several restaurants.
This shopping mall also provides you the following services and facilities: Body building room, Swimming pool, Sauna, Beauty and skin care clinic, Group sports halls, Playgrounds, Super market, Conference hall, Bank, Exchange, Confectionary and nuts, Drug store, Dentistry, Travel agency, Flower shop and Laundry.
Address: Next to Aroozi Alley, After Allef Sq. Moqaddas Ardabili (Za'feranie) St., Tehran.
From 9:00 AM to 11:00 PM.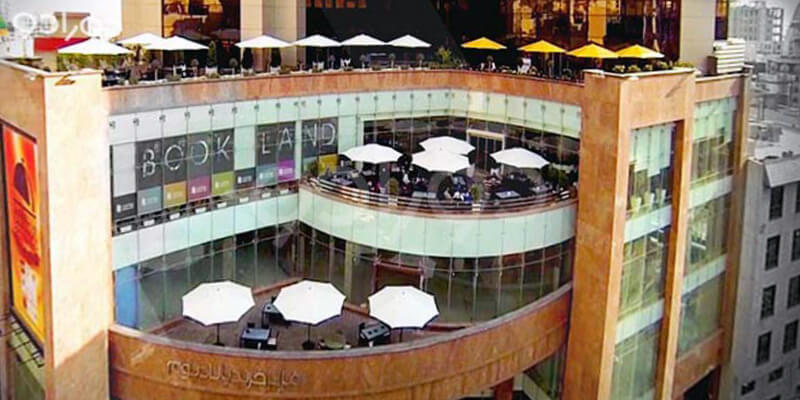 VANAK SHOPPING CENTER:
This Two-floor shopping center has 120 shops which mostly sell women dressing, shoes and bags, glasses and cosmetic products.
Facilities: Parking space, Air condition, Elevator, Coffee Shop and a relaxing area. You can visit this shopping center at: Vanak Street, Vanak Sq., Tehran. 11:00AM to 10:00PM.
Miladnoor SHOPPING CENTER:
This big complex has 357 stores with different products to sell which are mostly as Clothing, Shoes and Bags, Electronics, Sports equipment, Bed products, Watches and Glasses, Cosmetics products. It also has elevator, rest room, restaurants and coffee shops.
Working from Sat-Thu; 10:30 AM to 10:30 PM.
Friday: 2:30PM to 10:30PM.
Address: Farahzadi Blvd., Sana't Sq., Shahrak Qarb, Tehran.
Nasr Shopping Plaza:
This place has two parts as a small traditional bazzar and a passage which runs 400 shops.
Facilities: Restaurants, Coffee Shop, Restroom, Coffee net, Taxi services. It has no sub way station, elevator or parking. You have no district traffic rules to make you stop visiting.
You can find several items such as Clothing, Handy crafts, Shoes and bags, Glasses, Sport clothing, Jewelry and silver, Mobile accessories, Exchange, Rhinestones.
From 10:00AM to 10:30PM.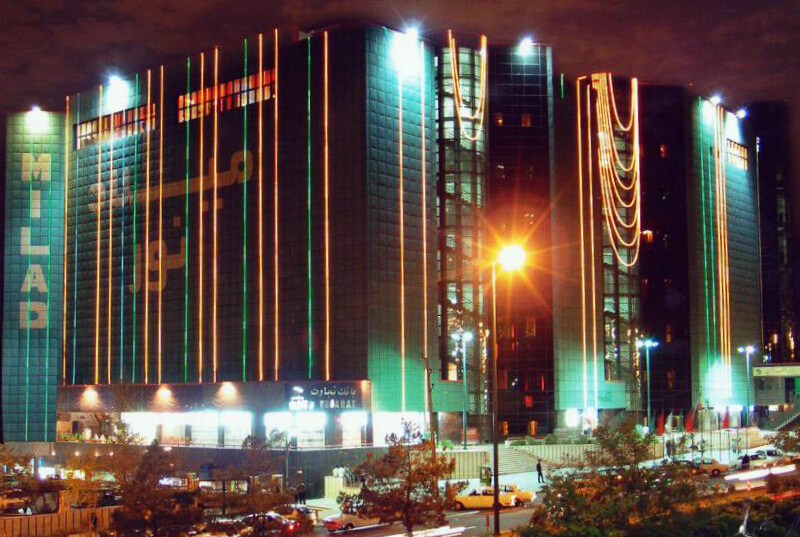 TANDIS SHOPPING PLAZA:
This place has $ shopping floors and 5 floors in which companies and offices are run. You can find men & ladies clothing, children clothing, shoes & bags, shawls & scarves, glasses, jewelries, mobile and computer games, handmade products, toy shops, perfume, restaurants and coffee shops.
Address: Jaffari St., Tajrish Sq., Tehran.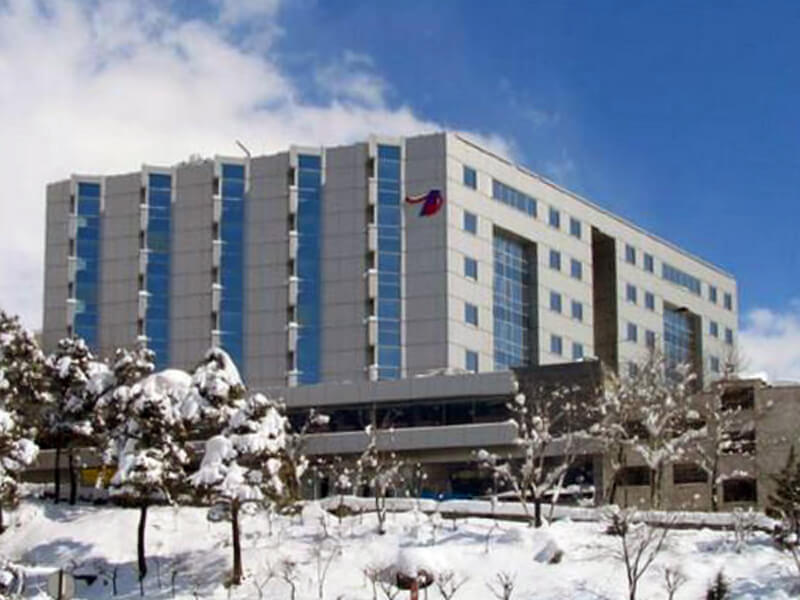 KOORUSH COMPLEX:
Koorush mall is one of the most shopping malls in Iran which has been designed and constructed by engineering management in a short time and has attracted many attentions toward itself. You don't believe if we tell you how crowded it can be during a working day. Thousands of people visit Koroush Complex. This place provides good services to Tehrani people. Here, you will find beautiful and modern restaurants, movie theatres, libraries, toy shops, mobile, jewelries plus famous brands.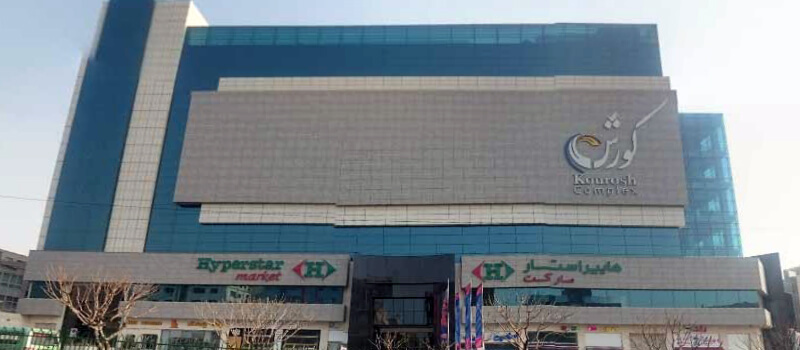 The Directory to Koroush Complex:
First basement: Shops, Coffee shops, Jewelry.
Second basement: Shops, Hyper market, Florist, Coffee shop and Showroom.
Ground floor: Shops, gold & Jewelry.
First floor: Shops, Smoking room, Mobile.
Second floor: First food court, Playground, LC Waikiki
Third floor: Movie theatre, Children room, Coffee shop, Fast food restaurants.
Fourth floor: Halls 1 to 6 movie theatre, Restaurants and coffee shops.
Fifth floor: Sales and management units, administrative unit, VIP hall, Smoking room, Restaurants & coffee shops.
Sixth floor: Halls 7 to 12 movie theatre, Restaurants.
Roof: Food court
Third to ninth basement can welcome 1600 cars.
Address: Sattari and central Payambar intersection, Sattari Ave., Tehran.
ROSHA STORE:
This is the first borderless shopping center. It means there is no border between shops & stores and you can easily choose your needs walking through this center. It has seventeen floors. 4 are uses for shopping and 10 are uses for parking space. Here is the map for 4 floors:
GF: Perfume, Cosmetic Products.
G: Ladies dressing, Bags & Shoes.
1st floor: Men & Children Clothing and the rest floors provide you the sports equipment. Like other shopping centers, there are beautiful and modern restaurants and Café's where you can sit and talk in peace.
Address: Farmanieh- Ammar, Intersection, Niavaran Ave., Tehran.
DONYAYE Noor Shopping Mall
This construction has been built up in front of a local park and is loved by people who have visited. It is located near Imam Ali Highway crossing Hakim and RESALAT Highways and it is 1791 square meters.
All include 10 floors with shopping and administrative usage. They welcome you with any parties and celebration to be held in a very romantic and modern atmosphere. You can find all men and women and kids clothing, shoes & bags, shawls & scarves, cosmetic products, toys, appliances, jewelry & gold, Electronics, & Mobile. There are also several restaurants, coffee shops and play ground in this complex. The second branch is under construction.
MODERN ELAHIYEH SHOPPING MALL
This modern mall is located in Africa Blvd and close to MODARRES Highway. It has 11 floors and only 2 floors are selling men & women clothing and the rest provide you with a good shopping for handmade chocolate, perfume, watches, cosmetic products and sports equipment.
You can also find STEFFANO Ricci, LANBROD DEPARK, Mont Carlo, Red Valentino, PROMODE, and so on brands there in this modern mall.
The Royal floor has been recently opened to the customer and includes several boutiques, jewelry, coffee shop and luxury restaurant. 175 car capacities have solved the parking car issue.
Add: Across from GOLNAR St., North Africa (Jordan) Blvd., ELAHIEH, and Tehran.
ARG SHOPPING MALL
It is a five-floor-mall which almost provides you all brands. It is one of the most interesting and luxury malls in Tehran. Five floors are uses as parking space which has 1000 roofed parking lots. The shops provide good brands of gold & jewelry, clothing, perfume, appliances, cosmetic products and …
The third floor has been exclusively hired and run by L. AVENNE, French brand as food court. You can find any international and local Iranian foods there.
Add: North West of TAJRISH Square.
GOLESTAN SHOPPING CENTER
There are many shops with different services as followings:
Table clothing, nuts, confectionary, carpet and pictures, perfume, appliances, florist, coffee shop, glasses, cosmetics, travel agencies, real states, banks, exchange, leather, sports equipment, car rental agencies, bags and luggage and shoes.
From 9:00 AM to 10:00 PM
Add: SHAHRAK-E-GHARB, Tehran.
TAJRISH BAZAR
It is one of the oldest bazar in SHEMIRANAT. From one side it is neighboring the holy place of IMAM ZADEH SALEH and the other side QODS square. You can find anything with reasonable quality. You can also find handmade products like TERMEH, cooper dishes, tiles, different dried fruits and nuts, saffron, spices, pickles and …
Many tourists and local people visit the bazar every day and almost all tourists like and name it as a very memorable place to visit. The entrance is close to bus station on the south west part of TAJRISH square.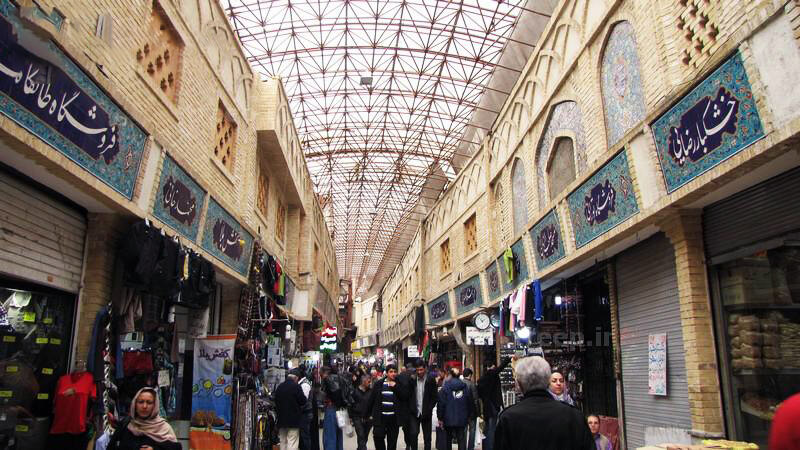 SAM CENTER
This complex has 9 floors. It is one of the most luxurious malls in Tehran. Don't miss watching gold & jewelry, watches, perfume, coffee shop, men and women and kids clothing. It is multi luxury brand complex such as Mon Blanc, CHERTOY, SHOPARD, VAN LAACK, ROJE JEWELRY, FRATELLI ROSSETTI, TRUSSARDI.
This complex is 1750 square meters which includes 26 stores in two floors, ground floor and 1st floor. It has 200 car parks from 2nd to 7th floor, and you can find a 1200 square meters restaurant with a marvelous landscape in 9th floor.
Add: ELAHIEH, FERESHTEH, Tehran.