HOW TO GET AN IRANIAN VISA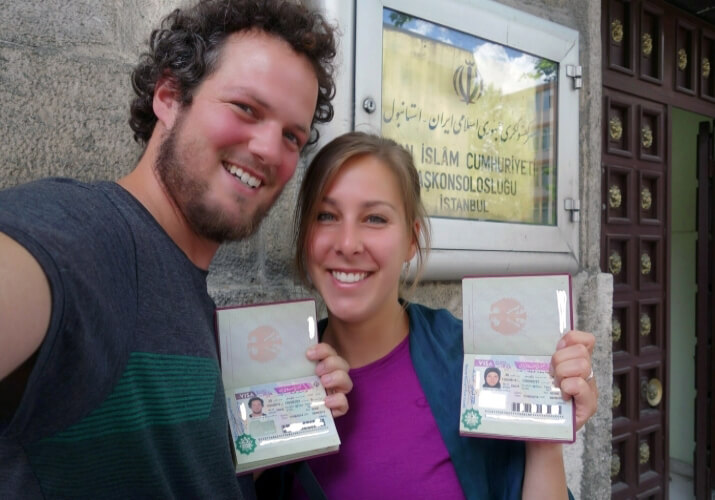 IRAN TOURIST VISA:
Iran Tourist Visa is issued for 30 days stay in Iran, and is valid for entry within 3 months after date of issue. It is just for SINGLE entry.
All nationalities are required to get a visa authorization code through an Iran-based agency. (This is usually done online). The code is issued by Iran Ministry of Foreign Affairs. This has replaced the common letter of invitation. The process normally takes 7-10 working days. Once you have the code, you should check with your nominated Embassy that they have received it from MFA. If so, you can then apply for your visa at the nominated Embassy.
VISA FEE: It can range from 100 $ – 250 $ depending on nationality and Embassy.
PHOTOS: 2 passport size photos are needed for visa issuance at the Embassy. Most Embassies require female's photos to be with Islamic cover (Hijab). Some don't.
Visa form: First visa form should be obtained from the agency. The second one should take from the Iran Embassy.
Visa validity: Passport with 6 months validity required.
VISA UPON ARRIVAL:
Iran visa on arrival (VOA) or Iran airport visa, refers to a special class of tourist visa received That you can apply for and be granted at some of major Iran's gates of entry like international airports of Tehran, Shiraz, Isfahan, Tabriz, Mashhad , Kish or even at some of the southern ports at the Persian gulf.
All these information are FYI (For Your Information). Please check with your airline or ferry booking company before setting out to travel to Iran.
Most but not all nationals of all countries can apply and are likely to get visa without much of trouble. Iran visa on arrival usually has 14-30 days validity.
Requirements:
A confirmed return ticket
A valid passport with at least 6 months validity
A photo that can be attach to the Iran visa application form. Bring two passport size pictures with yourself. Recently visa officers are using digital camera to take the needed pictures but still try to bring your own pictures just in case.
Visa fee, which can be payable to the Iran Visa & Passport Office at the airport. Iran airport visa fee depends on the applicant's nationality. Follow a list of visa fees from MFA (Ministry of Foreign Affairs).
Sometime an invitation letter or hotel reservation voucher is asked for. The invitation letter can send from the Iranian travel agency to Iran Ministry of Foreign Affairs at least 48 hours before your arrival to Iran airport.
Travel insurance clearly shows its validity.
Visa on arrival is not applicable to nationals of the following countries who must obtain a visa in advance:
Afghanistan
Bangladesh
Canada
Colombia
India
Iraq
Jordan
Nepal
Pakistan
Somalia
Sri Lanka
United Kingdom
United States
PRESS VISA:
This kind of visa is issued for journalists and representatives of foreign media or press who want to have a journey to Iran for the specific purposes.
Required Documents:
Two completed visa application forms
Valid passport for at least 6 month
Two recent photos (3×4)
Visa fee
Interview if necessary
DIPLOMATIC VISA:
This visa is issued for Diplomatic Officials who intend to have a journey to Iran for diplomatic issues.
Required Documents:
Official verbal note by the Ministry Of Foreign Affairs
Two completed visa application forms
Valid passport at least 6 months
Two recent photos (3×4)
Visa fee (If applicable)
NOTE:
Due to not issuing visa for Iranian and six other Islamic countries after Trump presidential, American citizens were not allowed to get Iran visa either temporary, but this issue was resolved and returned to its primary occasion. Also Israeli's and those who have entering Israel stamps in their passport are not allowed to enter Iran.
TRANSIT VISA:
Transit visa is issued for a limited period of time for foreigners who intend to pass through Iran to a third country. It is usually issued for 5-7 days at land border.
Required documents:
Two completed visa application forms
Valid passport for at least 6 months
Recent photos (Size 3x4cm)
Valid visa for third country
Confirmed air ticket for individuals who travel by air
Visa fee
Return envelope with adequate prepaid postage to cover cost of registered-
interview if necessary
STUDENT VISA:
Student visa is issued for foreign nationals who intend to study in the Islamic republic of Iran. Student Visa can only be applied though universities and a few well-known language institutes.
Requirements:
One completed visa application form
The applicant's passport; which must be valid for at least 6 months, with a minimum of two blank pages
Copy of Passport (ID-page)
Acceptance from accredited educational center
One current photographs in passport format (3 x 4)
Visa fee; paid by Banker's Draft made payable to the Embassy of the Islamic Republic of Iran
Note: Payment in cash is not acceptable*
Return envelope with address and adequate prepaid postage to cover cost of registered mail.
WORK VISA:
This visa will be issued for foreign nationals who intend to work in Iran. The Iranian host must obtain the work permit in advance from the concerned authorities. Expats require a work permit, or employment license, in Iran for any type of employment. The organ in charge is the "Department General for Employment of Foreign Nationals", a division of the Ministry of Cooperative, Labor and Social Welfare.
Requirements:
Two completed visa application
Three photos (3×4)
Valid passport, for at least 6 months
Visa fee
Return envelope with address and adequate prepaid postage to cover cost of registered mail Interview if necessary
PILGRIMAGE VISA:
This visa is issued for Muslims from other countries who intend to visit Holy Places in Iran.
Requirement Documents:
Two completed visa application
Three photos (3×4)
Valid passport, for at least 6 months
Return envelope with address and adequate prepaid postage to cover cost of registered mail
Interview if necessary
Visa fee